Dallas Sprinkler Repair Services Done Right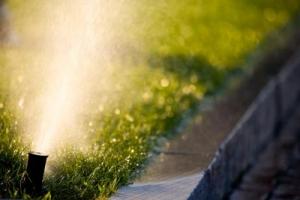 Unless you have embraced the desert look, a brown lawn isn't something you're aiming for. While the other homes on your block are struggling with drought problems, our Dallas sprinkler repair team can be installing a new sprinkler system to help keep your lawn plush and green. Of course, a sprinkler system is only as good as the lawn under which it is installed. Our specialists can also help you determine the right type of turf grass to install so that watering restrictions don't leave you with a pale, lifeless yard.

While cost is an important consideration when choosing a sprinkler repair service in Dallas, it's not the only one. A trustworthy and reliable service that is available when you need them should be your top priority. It doesn't matter how cheap a service is if they're not there to do the job. We have enough contractors on staff to handle your needs any day of the week.
We Come Fully Equipped for All Irrigation Repair & Installation Jobs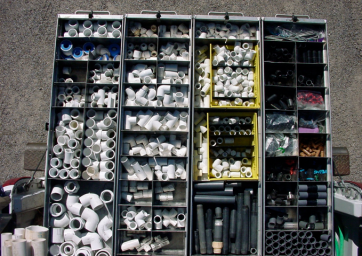 Being available is only half of the battle. If a tech gets to your home or business and can't diagnose the problem you're no closer to getting your needs met than you were before you made the call. Our Dallas sprinkler repair service techs are the best in the business and show up with the latest diagnostic tools to quickly determine the source of your problem. And because our trucks are filled with hundreds of high-quality replacement parts, we can repair your system on-site without having to head back to the shop to retrieve anything. This keeps repair time to a minimum and gets your system back up and running more quickly.
Our Dallas TX Sprinkler Repair Team Is Hard To Beat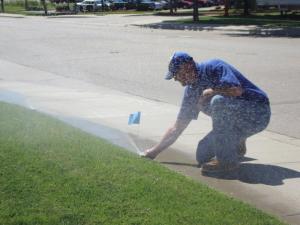 Our highly skilled techs are always up to date with current building codes and are familiar with the latest products on the market. They will answer any questions that you may have about your system, explain the diagnosis and detail everything that needs to be done to fix any existing problems in plain English. They will also provide an estimate before starting any work so you aren't ambushed by an unreasonable bill. We believe in treating our customers in a way we'd like to be treated ourselves.
We've got the techs and materials, but the real thing that sets us apart from the other Dallas sprinkler repair companies is our impeccable service record. Our customer satisfaction rate is the best in the business. Why? We show up fast, diagnose the problem in your system and fix it without trying to sell you things you don't need. We do what you want, how you want it, and help you maintain your lawn with the least effort possible. After all, you purchased a sprinkler system so you wouldn't have to waste your free time hand watering and if your system isn't working, you will be. Call us in to get your system running at peak efficiency and keep your lawn shimmering in the midday sun all summer long.
People Love Our Sprinkler Repair Team

This is a six-star service - five for the work performed - and an extra one for being a true gentleman.
- Laurie V.

My gardener managed to turn off half of the yard system somehow. Jim came out right away and found the problem, fixed it, and showed the gardener what had happened so it wouldn't happen again. He was quick and courteous. I've recommended him to all of the girls at book club.

- Martha J.

i've had trouble with tree roots in my pipes for as long as I've owned my system. The last one caused so much damage that I had to call in reinforcements. I was impressed with how well Jim handled the root problem and he showed me a few tricks for keeping it from happening as often. An A+ experience all around.

- Barry D.

When my lawn was dying I didn't have the luxury of waiting for my usual lawn service (they schedule service three weeks out), so I called Dallas Sprinkler Repair. They came out quickly, charged less than me regular service and did as good a job. They adjusted the pressure on my system and the dying areas perked right back up. They won me over. Give them a try. You won't be disappointed.

- Pat Z.